AC Installation, Air Conditioner Installation & Air Conditioning InstallationPalatine, IL, Gilberts, IL, Schaumburg, IL, Libertyville, IL, Barrington, IL & Elgin, IL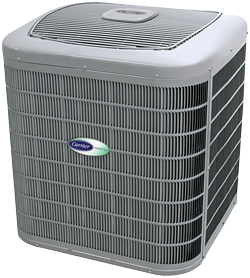 There's no need to live with the heat and humidity of a summer in Greater Chicago Suburbs, and no need to struggle with the noise of a window air conditioner.  As a Carrier Factory Authorized Dealer, Superior Heating and Ventilating Inc. offers a complete line of cost-effective and efficient cooling systems.  Whether you are replacing your existing air conditioner or adding central air conditioning in your home for the first time, we customize a solution to your exact specifications and expectations, ensuring ideal comfort and long-term satisfaction.  Our licensed and certified team of technicians are factory trained and regularly updated, remaining current with evolving technology and taking advantage of leading innovations to bring you the very best the industry has to offer.  From budget-friendly temperature control to the precision comfort of a zoned system, Superior Heating and Ventilating Inc. protects the value of your investment with proper sizing and installation procedures.
Professional Air Conditioning Installations, Including Zone Control!AC Installation in Barrington IL, Libertyville IL, Schaumburg IL, Elgin IL, Palatine IL, Gilberts, IL
Family owned, Superior Heating and Ventilating Inc. is committed to providing a rewarding experience, before, during, and after your air conditioner installation.  Our goal is to maximize rewards while trimming costs.  We specialize in zoned systems that benefit homeowners by allowing them to adjust temperatures in various areas of their home independently.  Family members are able to raise or lower the temperature in one room without affecting other family members.  Because the HVAC system is not forced to move air through the entire home at all times, equipment is spared from wear and tear, resulting in a longer life and fewer repairs.  And by targeting only rooms in use, rather than cooling the entire house, you stand to trim energy costs by as much as thirty percent.  For additional information and convenient scheduling across Barrington IL, Libertyville IL, Schaumburg IL, Elgin IL, Palatine IL, Gilberts, IL, contact Superior Heating and Ventilating Inc. today.  Keeping families safe and comfortable since 1977, our history of satisfied customers speaks for itself.
---
HVAC Company, Air Conditioner Replacement, Air Conditioning Installation, Heating and Cooling, AC Installation, A/C Installation in Barrington IL, Libertyville IL, Schaumburg IL, Elgin IL, Palatine IL, Gilberts, IL
HVAC Installation, Heating and Cooling Installation, Air Conditioner Installation, Air Conditioning Repalcement, AC Replacement, AC installation in Barrington IL, Libertyville IL, Schaumburg IL, Elgin IL, Palatine IL, Gilberts, IL