New Construction HVACBarrington, IL, Libertyville, IL, Elgin, IL, Schaumburg, IL & Palatine, IL, Gilberts, IL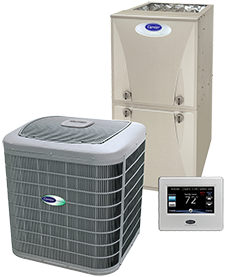 Building a new home or business allows you to do more than customize the design and appearance.  You decide how energy efficient it will be.  When you work with the professionals from Superior Heating and Ventilating Inc., we offer the opportunity to install a heating and cooling system that achieves your goals for aesthetics, comfort, noise level, energy efficiency, and ease-of-management.  The system you choose will impact the long-term enjoyment of your new home, as well as your budget, air quality, and safety.  While there is a long list of important decisions to be made, Superior Heating and Ventilating Inc. offers the information and guidance you need to ensure maximum return from your investment.
Your Solution for New Construction HVAC!
As a Carrier Factory Authorized Dealer, Superior Heating and Ventilating Inc. specializes in the most advanced, recognized, and award-winning heating and cooling systems on the market.  A wide selection meets every expectation, while innovative features open up exciting opportunities for climate customization, wireless access, zone control, self-diagnostics, and energy savings.  At Superior Heating and Ventilating Inc. we work with builders, general contractors, and consumers, bringing superior solutions and service to every job.  Through conscientious project management, we stick to a well-planned timetable, budget, and proven installation procedures.  We see that every facet of sizing and implementation is handled properly, with quality materials, and ensure results that live up to exacting standards.
Call us for all your new construction heating and cooling service needs!
Superior Heating and Ventilating Inc. not only recommends the type of heating and cooling system that will most benefit the home, we accurately calculate the heating load to optimize performance and longevity.  Founded in 1977, we are an established, family-owned business with a proven track record of successful projects and customer satisfaction.  When you trust your new construction installation to our team of licensed comfort specialists, you not only take advantage of our experience, you can trust we'll be here in the coming years to provide skilled service.  And if you ever run into a situation where you need 24/7 Emergency Service, Superior Heating and Ventilating Inc. is never further than a phone call away.  Consult with the experts from Superior Heating and Ventilating Inc. for professional service across Barrington IL, Libertyville IL, Schaumburg IL, Elgin IL, Palatine IL, Gilberts, IL, and make the right choice for your family or business.