Boiler Installation, Boiler Repair & BoilersLibertyville, IL, Elgin, IL, Schaumburg, IL, Palatine, IL, Gilberts, IL & Barrington, IL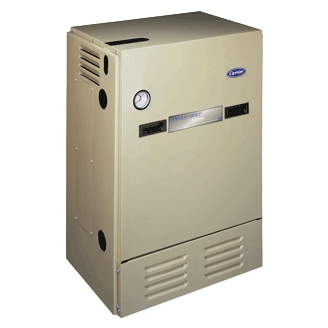 Sophisticated Carrier gas and oil-fired boilers are the perfect heat source for your home or commercial radiant system.  Delivering evenly distributed heat, stable temperatures, and silent operation, these systems maintain ideal comfort, no matter how long or severe the winter weather across Greater Chicago Suburbs.  Qualified as a Carrier Factory Authorized Dealer, Superior Heating and Ventilating Inc. offers an energy efficient solution for any sized home or business, with several ENERGY STAR rated models, and AFUE ratings up to 90%.  Our licensed, certified, and factory trained technicians match your requirements to the right option, from accurately calculating the heating load to meeting your budget.  Through strict installation procedures, Superior Heating and Ventilating Inc. ensures optimum performance, longevity, and energy savings. Contact Superior Heating and Ventilating Inc. for boiler installation with complete peace of mind.  Founded in 1977, we know exactly how to earn your satisfaction.
Reliable Boiler Installations & Service
Like any type of hard-working HVAC system, boilers require upkeep, and the occasional part replacement, to defend against wear and tear, extend service life, and maintain peak efficiency.  Trust the experts from Superior Heating and Ventilating Inc. to handle your every need, including troubleshooting and repair, with convenient appointment times, prompt arrival, and neat and tidy job sites.  We enhance your winter comfort with quality products, skilled service, and innovative features. Our licensed technicians are always available to assist you, 24 hours a day, with Emergency Service across Barrington IL, Libertyville IL, Schaumburg IL, Elgin IL, Palatine IL, Gilberts, IL.
Some of the benefits of a modern boiler system include:
Both gas and oil-fired boilers are wonderfully efficient, reliable, and durable
Improvements in design and technology have led to slimmer and more compact models for space-savings
Radiant heat provides a much more gentle, clean, and consistent comfort
These systems effectively eliminate temperature fluctuations
Boilers operate silently
Avoids the energy waste, maintenance, and contaminants associated with ductwork
Avoids the dust and allergens typical of forced air systems.
Incredibly long lifespans with timely maintenance
Zoned heating allows greater control over heat distribution and significant savings
Unoccupied or rarely used spaces do not have to be heated
Areas of the home that get colder than others can be adjusted directly for ideal comfort